Rockstars and Royalty Blog
• studio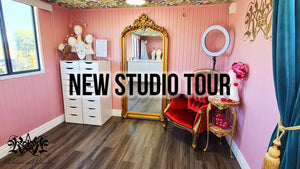 Last week, my home and studio of nearly 16 years was demolished! We're building a brand new house which will include a new studio for Rockstars and Royalty, but in the mean time I'm working out of a temporary studio in beautiful Royalla, just south of Canberra.  My temporary studio started life as a site shed. When I bought it, it was neglected and needed a huge amount of work to turn it into somewhere I could work and see clients for fittings.   With a huge amount of hard work from my husband (including helping me wallpaper the ceiling which he'll never forgive me...
---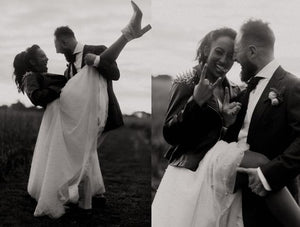 When Sarita was planning her wedding look, she knew that she wanted a mix of traditional and rockstar. She had already fallen in love with and bought her gorgeous ivory gown and came to see me to create a headpiece and embellish a jacket to give her the rock twist she was looking for.   My brief for the headband was to create something 'spiky and sparkly', possibly in a mix of different metallic tones. I bought a selection of brooches, earrings and jewellery components for Sarita to choose from. We decided on these black and gold stars with clear crystals...
---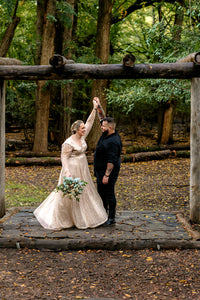 Congratulations to Esther and Ashley who were married earlier this year at Royalla Common. I had the pleasure of creating Esther's sequin wedding dress and the added fun of making a matching skirt and headband for their baby daughter. Esther chose a nude mesh sequin fabric with tiny silver seed beads and clear sequins in a pattern that faded into a  branch-like design as it moved up the fabric, which we layered over a taupe satin. The weight of the beads and sequins gave the dress beautiful movement at the hem. The off-cuts of the sequin fabric were used to...
---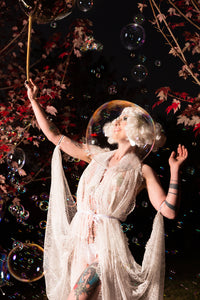 However long you have been sewing or designing for there is always something new to learn. This year I've been on a mission to improve and expand on my skills sewing stretch fabrics and underwear. While I've been making gowns and corsets for many years, stretch fabrics and underwear (other than corsets) haven't featured regularly in my designs since back in the late 90s when I was making goth and cyber style designs.  When burlesque and circus performer Sian Brigid commissioned me to make her black costume (above, photo by Purvore Photography), consisting of an underbust corset, g-string, bra and...
---
• Accessories • Flowers • headpiece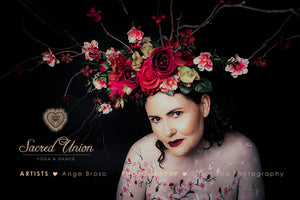 Tracey came to me with a unique request - a floral headpiece made from branches to match the body painting that she had planned for a photoshoot. The headpiece needed to be huge, made of real branches and artificial flowers, and include cherry blossoms. The design needed to be a little bit asymmetrical, but also balanced and it needed to be light enough and stable enough to be worn for the duration of the photoshoot.  You can see the process of creating the headpiece in the video below, then keep scrolling to see the gorgeous images from the photo shoot. All...