Rockstars and Royalty Blog
• couture • Couture gown • YouTube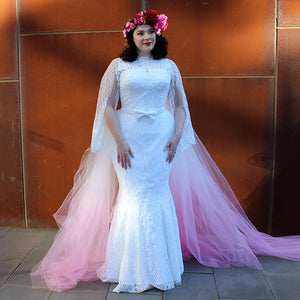 The Moonstone Gown (named after the most beautiful pink and white rose) is my latest couture creation. I'm constantly looking to improve my skills and learn new techniques, so whenever I make a new couture sample dress, I push myself technically and try to make designs or include features that I've not done before. Model, hair and make up - Sarah The Pale Pinup One of the new techniques that I used in the this gown is call thread tracing, and it's used to hide the seams within the design of the lace. I'd thread traced small areas of lace on...
---
• Accessories • Tutorial • YouTube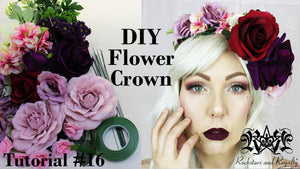 I am a huge fan of flower crowns, and they're a trend that's still very much with us. They can be bold and dramatic, or dainty and subtle. They can be worn for weddings, festivals, parties, or just because you love them. In my latest tutorial I show how to create your own, using a technique that can easily be adapted for small floral hair combs. You can also use fresh flowers - just mist the finished crown with water and keep it in the fridge until it's time to wear it. Have fun creating a floral look of your...
---
• Rocked Up Frocks • Vintage Fashion • YouTube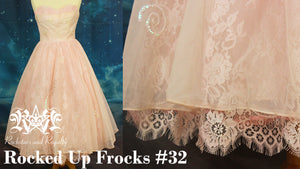 Inspired after seeing my 'Rocked Up Frocks' video series on YouTube, my client brought this gorgeous blush pink vintage dress to me to revamp and alter for her. It needed to be taken in, and the boning over the bust had snapped and buckled so needed replacing. I also added more boning to the sides and back of the bodice to give it more structure. Next, we revamped it by adding pale pink lace to the skirt and bodice, replaced the sequins on the skirt which had discoloured over time, and continued the sequin decoration to the back of the...
---
• Rocked Up Frocks • Sewing tutorial • Vintage Fashion • YouTube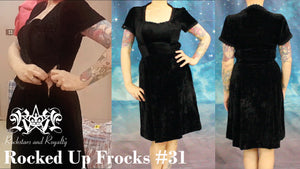 This gorgeous vintage velvet dress was one of the pieces in the huge bags of vintage clothing that I acquired via my local 'buy nothing' Facebook page. You can see the video of me opening the bags and discovering the treasures inside here. This dress is made from gorgeous soft black velvet and was in really good condition, so it didn't need a huge amount of work to bring it back to life. The first issue was that the zip was broken, and that the dress was really hard to get on and off as there was only a very...
---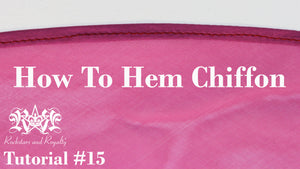 Hemming fine fabrics such as chiffon and organza can be tricky. They can be slippery and hard to pin, and it's easy to end up with an ugly, uneven hem. This technique, in which you stitch the hem with a single turn, cut away the excess fabric, then stitch again, is the simplest way to get a neat, narrow hem on fine fabrics.