• Accessories • Flowers • headpiece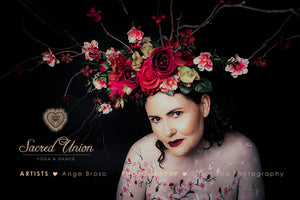 Tracey came to me with a unique request - a floral headpiece made from branches to match the body painting that she had planned for a photoshoot. The headpiece needed to be huge, made of real branches and artificial flowers, and include cherry blossoms. The design needed to be a little bit asymmetrical, but also balanced and it needed to be light enough and stable enough to be worn for the duration of the photoshoot.  You can see the process of creating the headpiece in the video below, then keep scrolling to see the gorgeous images from the photo shoot. All...
---
• Accessories • couture • Couture gown • inspiration • Real bride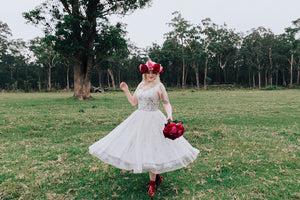 Kelly and Stuart Wolf celebrated their wedding at their own 2 day festival 'Raise The Vibration - The Festival of Love'. Kelly and Stuart run The Centre of Sacred Union; Sacred Union Yoga, Dance, Sound Healing and Retreats, and incorporate their passion for unity and love into their work and their lives, and it was evident in every aspect of their incredible festival wedding as well, as shown in the incredible photos by Tracy Lee. I designed and created a blush pink silk satin and tulle dress with silver sequin appliques and a dramatic red and pink flower crown for Kelly's wedding ceremony....
---
• Accessories • couture • Couture gown • inspiration • Makeup • Sewing tutorial • Tutorial • Wigs • YouTube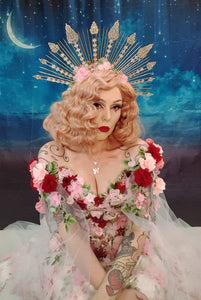 Inspiration for my couture gowns can strike at any time, and in the case of Flora, it was while I was browsing online for fabric (one of my favourite pastimes!) I saw the soft tulle, embellished with chiffon flowers and curling embroidery and knew I had to have it!  I decided I wanted to create something with even more flowers, that looked like an overgrown garden that had bust into life in spring, so I added lots of extra embroidered flower appliques, embroidered leaf appliques and chiffon flowers to my cart, all in shades of blush pinks and deep reds....
---
• Accessories • couture • Couture gown • Makeup • photo shoot • Wigs • YouTube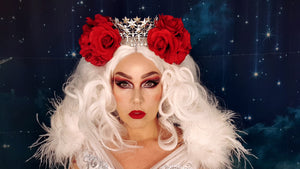 'You can be anything you want to be, just turn yourself into anything you think that you could ever be. Be free with your tempo. Be Free. Be free.' Queen – 'Innuendo' The Liberty dress started life as a challenge to myself to create a couture dress using half-finished projects, studio scraps, and supplies from my stash, but it became so much more. It became symbolic of the changes that were happening in my life, my struggles with mental illness and creative self-doubt, and of me rediscovering my passion for couture. It marks my return to making couture gowns, and...
---
• Accessories • Tutorial • YouTube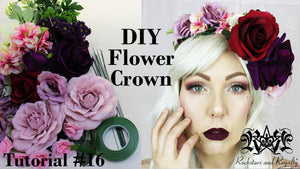 I am a huge fan of flower crowns, and they're a trend that's still very much with us. They can be bold and dramatic, or dainty and subtle. They can be worn for weddings, festivals, parties, or just because you love them. In my latest tutorial I show how to create your own, using a technique that can easily be adapted for small floral hair combs. You can also use fresh flowers - just mist the finished crown with water and keep it in the fridge until it's time to wear it. Have fun creating a floral look of your...