• Rocked Up Frocks • Vintage Fashion • YouTube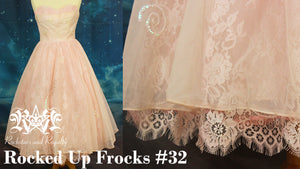 Inspired after seeing my 'Rocked Up Frocks' video series on YouTube, my client brought this gorgeous blush pink vintage dress to me to revamp and alter for her. It needed to be taken in, and the boning over the bust had snapped and buckled so needed replacing. I also added more boning to the sides and back of the bodice to give it more structure. Next, we revamped it by adding pale pink lace to the skirt and bodice, replaced the sequins on the skirt which had discoloured over time, and continued the sequin decoration to the back of the...
---
• Rocked Up Frocks • Sewing tutorial • Vintage Fashion • YouTube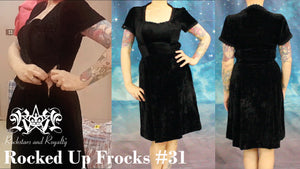 This gorgeous vintage velvet dress was one of the pieces in the huge bags of vintage clothing that I acquired via my local 'buy nothing' Facebook page. You can see the video of me opening the bags and discovering the treasures inside here. This dress is made from gorgeous soft black velvet and was in really good condition, so it didn't need a huge amount of work to bring it back to life. The first issue was that the zip was broken, and that the dress was really hard to get on and off as there was only a very...