• Accessories • couture • Couture gown • inspiration • Makeup • Sewing tutorial • Tutorial • Wigs • YouTube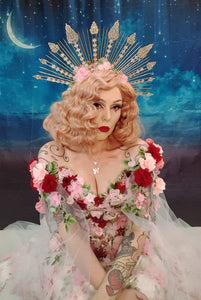 Inspiration for my couture gowns can strike at any time, and in the case of Flora, it was while I was browsing online for fabric (one of my favourite pastimes!) I saw the soft tulle, embellished with chiffon flowers and curling embroidery and knew I had to have it!  I decided I wanted to create something with even more flowers, that looked like an overgrown garden that had bust into life in spring, so I added lots of extra embroidered flower appliques, embroidered leaf appliques and chiffon flowers to my cart, all in shades of blush pinks and deep reds....
---
• Accessories • Tutorial • YouTube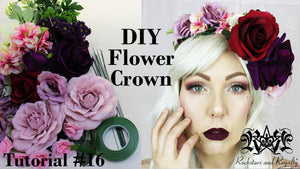 I am a huge fan of flower crowns, and they're a trend that's still very much with us. They can be bold and dramatic, or dainty and subtle. They can be worn for weddings, festivals, parties, or just because you love them. In my latest tutorial I show how to create your own, using a technique that can easily be adapted for small floral hair combs. You can also use fresh flowers - just mist the finished crown with water and keep it in the fridge until it's time to wear it. Have fun creating a floral look of your...