Rockstars and Royalty Blog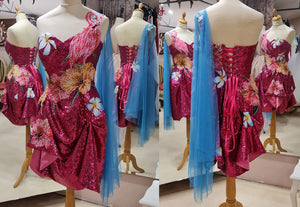 When Jazida launched Flazeda Hub, a social enterprise alternative performing arts venue, at the end of January, we came up with a very last minute idea that she should be wearing something that fitted in with the Flazeda branding and colours for the launch event. Jazida had found a gorgeous tropical flower and flamingo print that has become Flazeda's signature design, and can be seen on everything from the website and logo, to one whole wall of the studio, so it seemed perfect to use those colours for the dress. The bar at Flazeda Hub, Canberra Somewhere, Jazida had also come...
---
• Accessories • couture • Couture gown • inspiration • Real bride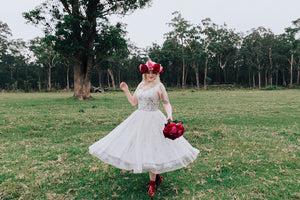 Kelly and Stuart Wolf celebrated their wedding at their own 2 day festival 'Raise The Vibration - The Festival of Love'. Kelly and Stuart run The Centre of Sacred Union; Sacred Union Yoga, Dance, Sound Healing and Retreats, and incorporate their passion for unity and love into their work and their lives, and it was evident in every aspect of their incredible festival wedding as well, as shown in the incredible photos by Tracy Lee. I designed and created a blush pink silk satin and tulle dress with silver sequin appliques and a dramatic red and pink flower crown for Kelly's wedding ceremony....
---
• Accessories • couture • Couture gown • inspiration • Makeup • Sewing tutorial • Tutorial • Wigs • YouTube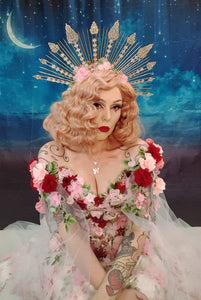 Inspiration for my couture gowns can strike at any time, and in the case of Flora, it was while I was browsing online for fabric (one of my favourite pastimes!) I saw the soft tulle, embellished with chiffon flowers and curling embroidery and knew I had to have it!  I decided I wanted to create something with even more flowers, that looked like an overgrown garden that had bust into life in spring, so I added lots of extra embroidered flower appliques, embroidered leaf appliques and chiffon flowers to my cart, all in shades of blush pinks and deep reds....
---
• Accessories • couture • Couture gown • Makeup • photo shoot • Wigs • YouTube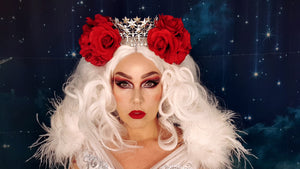 'You can be anything you want to be, just turn yourself into anything you think that you could ever be. Be free with your tempo. Be Free. Be free.' Queen – 'Innuendo' The Liberty dress started life as a challenge to myself to create a couture dress using half-finished projects, studio scraps, and supplies from my stash, but it became so much more. It became symbolic of the changes that were happening in my life, my struggles with mental illness and creative self-doubt, and of me rediscovering my passion for couture. It marks my return to making couture gowns, and...
---
• couture • Flash back Friday • inspiration • photo shoot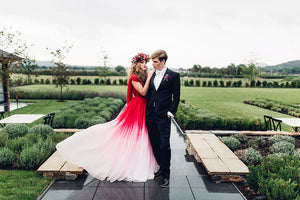 This shoot was the largest most elaborate shoot that I have ever planned. It brought together some of my favourite creative people from Canberra and beyond, and, 3 years on, is still one of my favourite shoots. Here's what I wrote about the day over on Rock My Wedding where it was originally published. Genevieve and I first did a styled shoot together in early 2015 and the results were stunning. So when Gen contacted me to say that she was coming back to Canberra and asked me if I would like to shoot with her again I jumped at the...